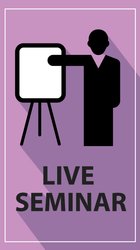 Turning "I Can't" into "I Can!" for Kids with Executive Function Deficits: Practical Strategies to Get Organized, Manage Time & Complete Tasks
Where:
ELLICOTT CITY, MD
When:
Thursday, November 14, 2019 at 8:00 AM - 4:00 PM
Details
$249.99
Single Registration
$219.99
Single Registration: Advance Price (ends 10/25/2019)
$219.99
2+ Group Rate: per person
*** All prices are shown in US Dollars ***
Brochure and CE details available soon!
Location
TURF VALLEY RESORT & CONFERENCE CENTER
2700 TURF VALLEY RD
ELLICOTT CITY, MD 21042
Phone: (410) 465-1500
View Map
Alternate Locations
Course Description:
In this experiential program, you will learn evidence-based cognitive, physical and environmental strategies to use in the assessment and intervention of executive function (EF) deficits in children and adolescents.
You will learn effective assessment processes, activity analysis, interventions and coaching activities that empower positive behavior change in the kids you work with. These innovative interventions will help your clients successfully negotiate the daily tasks of life such as organization, time management, initiation and completion of tasks – without heavy reliance on others.
You will learn interventions that increase self-awareness, self-monitoring and problem-solving skills and teach them how to be proactive and a socially and academically successful student. The often-forgotten influence of sleep will also be prioritized as a means to success, along with routine-building strategies, such as goal attainment scaling.
Attend and learn how to:
Use a model of inhibition, working memory and cognitive shifting as a framework for working with EF
Maximize memory formation through sensory processing and sleep strategies
Assess functional EF needs effectively to establish concrete interventions
Establish skill-building interventions to promote organization, time management and task completion
Design effective accommodations to enhance generalization of skills to navigate daily tasks
Focusing on a top-down, client-centered approach and incorporating both remediative and adaptive interventions ensures that you can hit the ground running with your clients immediately. Your competence will translate to their confidence!
Objectives:
Utilize the developmental patterns for the three foundational components of executive function (EF) to create lens for assessment and intervention.
Develop mindfulness, physical activity, positive reinforcement and environmental interventions and assign as homework, classwork and activities of daily living (ADLs) for children and adolescents.
Examine the neurological connections between attention, arousal, and memory that affect executive function performance in ADLs, academics and social participation.
Establish the relationship between postural control, attention, vision and executive functions as it relates to assessment and treatment planning.
Correlate the influence of sleep on executive function performance and the consequences of arousal challenges with sleep onset difficulties.
Utilize goal attainment scaling as an intervention to improve client's self-management skills, habit formation and routinization.
OUTLINE
Inhibition, Working Memory and Cognitive Shifting: The Working Model of Executive Function
Developmental patterns to distinguish assessment and intervention processes
Dysfunction patterns in ADHD, ASD, Sensory Processing Disorder, learning disabilities, brain injury
Consequences of impulsivity, working memory difficulties and cognitive rigidity
Neuro Connections: From Sensory Processing to Memory Formation and Sleep
Sensory processing as basis for learning
Arousal states and "window of opportunity for learning"
Self-regulation: sensory, cognition, emotional regulation, impulse control
Postural control and relationship to attention
Vision and learning: consequences for attention, EF
Sleep and influence on learning, self-regulation, memory consolidation and attention
Assessment: From Observations to Standardized Tools
Observational strategies to identify EF deficits
Assessment tools for inhibition, working memory and shifting
Semi-structured interviews and self-assessment tools
Assessment tools for global EF measurements and sleep
Identification of sensory arousal patterns
COGNITIVE, PHYSICAL AND ENVIRONMENTAL INTERVENTIONS
Skill-Building Strategies to Get Organized, Manage Time & Complete Tasks
Martial arts, physical activity, mindfulness and yoga incorporations
Sensory and cognitive-based strategies for self-regulation and arousal: "POW! Battery System"
Time management remediation processes: "Time Detective"
Internal voice to promote metacognition, planning, and attention: "Play by Play"
Sustained, alternating attention and memory activities: "The Lyrics Game"
Motor learning principles to promote automaticity
Mnemonics, chunking and storytelling: "What the EF?!"
Video case examples: Implementing skill building strategies
Adaptations to Enhance Generalization of Skills to Navigate Daily Tasks
Adaptive seating, visual clutter considerations, vision boards
Positive reinforcement and creation of systems: organizational habits
Plan, organize, work, finish tasks: "POW! Strategy"
Self-monitoring goals to establish routines: goal attainment scaling
Sleep hygiene protocols as part of the EF continuum
504 and IEP accommodation design strategies
Video case examples: implementing adaptation strategies
Case Study: 9 year old male with ADHD and sensory processing disorder
Target Audience
Occupational Therapists
Occupational Therapy Assistants
Physical Therapists
Physical Therapy Assistants
Speech Language Pathologists
Educators
Counselors
Social Workers
Psychologists
School Administrators
NICOLE QUINT, DR.OT, OTR/L
Nicole R. Quint, Dr.OT, OTR/L, is a licensed occupational therapist with more than 15 years of experience in pediatric practice, specializing in sensory processing, executive functioning skills, behavioral strategies and social emotional learning. Her clinical practice includes work in the hospital, home health, outpatient, and school-based settings. Currently an associate professor at Nova Southeastern University's Department of Occupational Therapy, Dr. Quint provides instruction in both the masters and doctoral programs since 2009. She provides consulting services specific to advocacy in the schools, organizational conflict assessments, leadership, program development and evaluation, as well as innovative practice development. Her research focus includes adults with sensory processing disorder, autism and vision, and sensory based interventions.

Dr. Quint has developed programs to promote sensory processing as a foundation for learning, social emotional learning and development to promote performance in all areas. She has an expansive presence in local, state and national conference platforms, including Region 7 South Occupational Therapy Group; Florida Occupational Therapy Association (FOTA); American Occupational Therapy Association (AOTA); Section on Pediatrics Annual Conference; Academy of Pediatric Physical Therapy Annual Conference (SoPAC, APPTA); as well as presenting at the Canadian Occupational Therapy Conference in 2018. Dr. Quint provides professional development trainings for continuing education through OccupationalTherapy.com, Arizona Autism, PhysicalTherapy.com, Audiology.com, TheraCare AZ.

Dr. Quint heads the Making Sense of SPD Parent Support Group in Davie, FL, which works toward education, advocacy, and support for families living with SPD. She is the co-creator of It Just Makes Sense, a grant-funded professional development program for the occupational and physical therapists working in Broward County Public Schools, the sixth largest school district in the nation. Dr. Quint is completing her PhD in conflict analysis and resolution, focusing on conflict related to disabilities and systems, including special education, legal systems, and health care.



Speaker Disclosures:

Financial: Nicole Quint is an associate professor at Nova Southwestern University. She is a speaker who receives an honorarium for PESI, Inc.

Non-financial: Nicole Quint is a member of the American Occupational Therapy Association; Florida Occupational Therapy Association; and the Caribbean Occupational Therapy Association.
Satisfaction Guarantee
Your satisfaction is our goal and our guarantee. Concerns should be addressed to PESI Kids, P.O. Box 1000, Eau Claire, WI 54702-1000 or call (800) 844-8260.

ADA Needs
We would be happy to accommodate your ADA needs; please call our Customer Service Department for more information at (800) 844-8260.
Credit Card
Required
for online registration |
Contact us
to redeem Gift Certificates