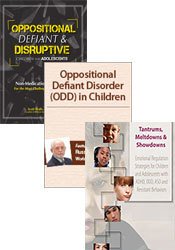 Product Details
Format:

Package - Video & Book Instructions

Authors:

SUSAN P EPSTEIN, LCSW, PARENT COACH
SCOTT D. WALLS, MA, LIPC, CCMHC
RUSSELL BARKLEY, PH.D.

Publisher:

PESI Inc.

Copyright:

5/16/2014

CE Available:

Yes, See CE credit tab for complete continuing education details

Product Code:

RVKIT051045
Objectives
[+]
[-]
047230 - Tantrums, Meltdowns & Showdowns
State the difference between a "stop behavior and a start behavior"
Summarize 10 essential skills for diffusing tantrums, meltdowns and shutdowns in children.
Implement 3 tools to develop trust and motivation, while avoiding the pitfalls of power struggles and disengagement.
Identify simple, easy interventions to engage even the most resistant behavior
[+]
[-]
049090 - Oppositional Defiant Disorder (ODD) in Children with Dr. Russell Barkley
Explain the nature of defiant, oppositional, or noncompliant behavior in children
Describe the four major factors that contribute to such behavior, known as the four-factor model of defiant behavior
Summarize the implications of this model for evaluating children with this behavior pattern.
Describe the treatment implications that arise from an understanding of this model
Identify the most effective elements of behavioral parent training to reduce childhood defiant behavior and improve parent-child relationships.
Outline
[+]
[-]
047230 - Tantrums, Meltdowns & Showdowns
Why Do They Lose It?
Physical and Emotional Challenges
Transitions
Stop Behaviors
Start Behaviors
Power Struggles: Non-Engagement & Blocking Strategies for ADHD, ODD, ASD & Resistant Behaviors
Why time outs don't work
Mindfulness: How to Diffuse through Validation and Repetition
How to Block Disrespectful & Negative Verbal & Non Verbal Behaviors
Visual Aids for Start & Stop Behaviors
Using templates to communicate
Transitions Made Fun
Non verbal techniques to express feelings
3 x 5 cards for Tantrum Busting
[+]
[-]
049090 - Oppositional Defiant Disorder (ODD) in Children with Dr. Russell Barkley
ODD as a Two-Dimensional Disorder
Demographic Features
Comorbidities
ADHD Link to ODD
How Does ODD Progress to Conduct Disorder (CD)
Adverse Adaptive, Social, and Educational Outcomes from ODD
Major Treatments for ODD
Goals and Effectiveness of Parent Training for ODD Management
Predictors of Success
Barkley's Defiant Children Program Overview
Author
SUSAN P EPSTEIN, LCSW, PARENT COACH
Susan P. Epstein, LCSW, author, speaker and child behavior expert brings passion and over 30 years of practiced psychotherapy together to share new materials and easy interventions to engage even the most resistant child. Susan is the author of the best-selling book, Over 60 Techniques, Activities & Worksheets for Challenging Children & Adolescents (PESI, 2011) and also55 Creative Approaches for Challenging & Resistant Children & Adolescents (PESI, 2014). She has also authored Your Out of Control Teen: The Little Book With a Lot of Attitude, A Guide to Effective Parent-Teen Communication (Shining Star, 2009), two parenting books Are You Tired of Nagging: How to Get Cooperative Kids (Shining Star, 2008) and The Take Back Your Parenting Powers System (Vervante, 2007) & and has co-authored a children's book about death, loss and healing, The Cat Who Lost Its Meow (Case-En-Point Press, 2008).

In addition to her clinical work, Susan is a parent coach, certified health coach, national child behavior expert, and has contributed to magazines Family, Parents, American Baby and New York. She founded Parenting Powers, a coaching company that provides parent coaching and supervision and training to professionals working with challenging kids.
Speaker Disclosures:
Financial: Susan Epstein maintains a private psychotherapy practice and is the founder of Parenting Powers. She is an author for Premier Publishing & Media and receives royalties. She is an author for Shining Star Publishing and Chase-En-Point Press Publisher and receives royalties. She is receives a speaking honorarium from PESI, Inc.
Nonfinancial: Susan Epstein has no relevant nonfinancial relationship to disclose.
SCOTT D. WALLS, MA, LIPC, CCMHC
Scott D. Walls, MA. LIPC, CCMHC, is a mental health counselor in private practice in Lincoln, NE, and has previously spent 15 years with the Lincoln Public Schools as a behavior specialist and psychotherapist. Scott has provided therapy and consultation services for hundreds of children, teens and families in the Lincoln area. In addition, Scott has provided numerous trainings for teachers, administrators and case management staff for various agencies. He is also the author of Oppositional, Defiant & Disruptive Children and Adolescents (PESI, 2016) and Behavior Management Skills Guide with Deb Rauner (PESI, 2015).

Scott co-founded a domestic violence group for female offenders and was a practicing therapist and case manager supervisor for a special project in Lincoln that offered treatment for torture and trauma survivors for refugees and immigrants. In addition to his duties as a therapist and consultant, Scott is the founder and owner of the Lincoln Karate Clinic, Inc. This karate school offers specialized karate lessons for children ages 4-7 and youth ages 8 and up. The karate school is well known for providing unique classes that incorporates Stranger Danger lessons, and Scott's personally developed antibullying program entitled: "The 4 C's of Bullying."

Scott enjoys providing information to students and participants in a relaxed, learning environment and makes every attempt to give participants practical and down to earth, educational information.

Speaker Disclosures:

Financial: Scott Walls maintains a private practice. He receives a speaking honorarium from PESI, Inc. Non-financial: Scott Walls is a member of the National Board for Certified Counselors.
RUSSELL BARKLEY, PH.D.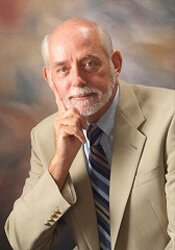 Russell A. Barkley, Ph.D.,
is a Clinical Professor of Psychiatry at the Virginia Treatment Center for Children and Virginia Commonwealth University Medical Center, Richmond, VA. He is a Diplomate (board certified) in three specialties, Clinical Psychology (ABPP), Clinical Child and Adolescent Psychology, and Clinical Neuropsychology (ABCN, ABPP). Dr. Barkley is a clinical scientist, educator, and practitioner who has published 23 books, rating scales, and clinical manuals numbering 41 editions. He has also published more than 270 scientific articles and book chapters related to the nature, assessment, and treatment of ADHD and related disorders and is the author of the book
Managing ADHD in School
(PESI, 2016).
He is the founder and editor of the bimonthly clinical newsletter,
The ADHD Report,
now in its 25th year of publication. Dr. Barkley has presented more than 800 invited addresses internationally and appeared on nationally televised programs such as
60 Minutes, the Today Show, Good Morning America, CBS Sunday Morning, CNN,
and many other programs on behalf of those with ADHD. He has received awards from the American Psychological Association, American Academy of Pediatrics, American Board of Professional Psychology, Association for the Advancement of Applied and Preventive Psychology, American Professional Society for ADHD and Related Disorders, New England Educational Institute, the Wisconsin Psychological Association, and Children and Adults with ADHD (CHADD) for his career accomplishments, contributions to research in ADHD, to clinical practice, and for the dissemination of science.
Speaker Disclosures:
Financial: Dr. Russell Barkley is employed by the Medical University of South Carolina. He is on the speaker's bureau for Eli Lilly and receives compensation. He has an advisory board relationship with Theravance and receives compensation. He is an author for Guilford Press and receives royalties. He is an author for Jones and Bartlett Publishers and receives royalties. He is a speaker for J&K Seminar and receives royalties. He is a speaker for PsychContinuingEd.com and receives royalties. He is a speaker for ContinuingEdCourse.com and receives royalties. He is a speaker who receives an honorarium for PESI, Inc.
Nonfinancial: Dr. Russell Barkley has no relevant nonfinancial relationship to disclose.
Continuing Education Credits Awarded for Completion of Entire Package
[+]
[-]
Combined Continuing Education Credit From All Components
Breakdown of Continuing Education Credits by Components
[+]
[-]
047230 - Tantrums, Meltdowns & Showdowns
[+]
[-]
049090 - Oppositional Defiant Disorder (ODD) in Children with Dr. Russell Barkley
[+]
[-]
084010 - Oppositional, Defiant & Disruptive Children and Adolescents
Audience
Psychologists, Counselors, Social Workers, Case Managers, Marriage & Family Therapists, Nurses, Teachers/Educators, and other Helping Professionals that work with children, Addiction Counselors, Occupational Therapists & Occupational Therapy Assistants, Speech-Language Pathologists, and other Mental Health Professionals
Satisfaction Guarantee
Your satisfaction is our goal and our guarantee. Concerns should be addressed to PESI Kids, P.O. Box 1000, Eau Claire, WI 54702-1000 or call (800) 844-8260.

ADA Needs
We would be happy to accommodate your ADA needs; please call our Customer Service Department for more information at (800) 844-8260.