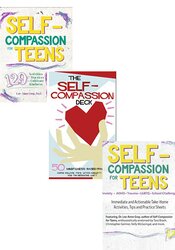 Product Details
Format:

Package - Video & Book Instructions

Authors:

LEE-ANNE GRAY, PSY.D.
TIM DESMOND, LMFT
CHRISTOPHER WILLARD, PSY.D.
MITCH R ABBLETT, PH.D.

Publisher:

PESI Inc.

Copyright:

10/18/2016

CE Available:

Yes, See CE credit tab for complete continuing education details

Product Code:

RVKIT052065
Objectives
[+]
[-]
049970 - Self-Compassion for Teens:
Differentiate between self-compassion, self-empathy, self-esteem and self-criticism.
Summarize the interpersonal neurobiology of self-compassion for teens, and its effects on the developing brain.
Formulate treatment plans, parenting approaches, and behavior plans that heal with self-compassion for teen.
Employ assessment tools, activities, and self-reflective practices to promote healthy sexual and gender identity development in LGBTQ teens.
Contrast existing medical and non-medical approaches to depression, anxiety, ADHD, and school problems with self-compassion practices for teens.
Design self-compassion strategies to reduce decompensation, dissociation, and increase recovery in traumatized teens.
Outline
[+]
[-]
049970 - Self-Compassion for Teens:
Self-Compassion
Cultivating mindful awareness, self-kindness, and shared humanity
Developmental considerations to train teens in self-compassion
Activity: Loving kindness practice
Activity: Just like me practice
Interpersonal Neurobiology of Self-Compassion and Teens
The developing teen brain
Self-healing properties
Neuronal benefits
Activity: How is my amygdala today?
SELF-COMPASSION STRATEGIES FOR...
Depression and Anxiety
Increasing resilience, happiness and coping
Reduce sadness, worry, doubt and fear
Negative thinking, self-criticism, and lack of motivation
Stressors, situations and causes of anxiety
Activity: Move in and out of the default network
Activity: Flush depression and anxiety down your grounding cord
Activity: Powerful pranayamas
ADHD
Minimize ADHD symptoms, and improve executive functioning
The role of the body in hyperactivity and thinking problems
Non-medical approaches
Activity: Nutrition/activity/concentration log
Activity: Watching thoughts
Trauma
Minimize risks of decompensation and dissociation
Self-kindness and honoring vulnerability
Role of shame in treating trauma
Embracing curiosity as a form of self-kindness
The role of tears
LGBTQ
Intersectionality and self-compassion for teens
The spectrum of genders
The spectrum of sexualities
Inventories and self-report questionnaires to promote healthy gender and sexual identity development
Self-compassion for collective traumatization
School Challenges
Stress, academic failure, college competition, parental demands, and not performing according to one's potential.
Executive functioning difficulties
The role of creativity
Activity: Creativity and self-compassion – a guided practice for accessing "flow"
Author
LEE-ANNE GRAY, PSY.D.
Lee-Anne Gray, PsyD, is a clinical psychologist, educator, and author. She is certified in EMDR, a trauma treatment, as well as a national speaker in self-compassion, mindful awareness, LGBTQ youth, assessment, special education, and gifted individuals.

As the president and CEO of The Connect Group, she serves the global educational community with innovative professional development seminars in empathy, compassion cultivation, Design Thinking, and transformational coaching.

Formerly an instructor of Psychology of Gender in the Department of Psychology/Women's Studies at UCLA, Dr. Gray has served the LGBTQ community as an ally and through her private practice. She was also forensic expert and independent consultant to the Orange County Public Defender where she evaluated LGBTQ youth in juvenile hall.

Dr. Gray's latest book, Self-Compassion for Teens: 129 Activities and Practices to Cultivate Kindness, is the first of its kind; a collection drawn from her work with teens at The Connect Group. Self-Compassion for Teens is enthusiastically endorsed by Tara Brach, Christopher Germer, Kelly McGonigal, among others. It was the #1 new release on Amazon, in Child Popular Psychology and Emotional Mental Health, and contains a whole chapter focusing on the unique needs of LGBTQ youth.

Speaker Disclosures:

Financial: Lee-Anne Gray is the President and CEO of The Connect Group and co-founder of The Connect Group School. She is an author for PESI Publishing & Media and receives royalties. Dr. Gray receives a speaking honorarium from PESI, Inc.

Non-financial: Lee-Anne Gray writes a blog on Educational Trauma for the Huffington Post.
TIM DESMOND, LMFT
Tim Desmond,
is a Buddhist scholar, therapist in private practice, and co-founder of Morning Sun Mindfulness Center in Alstead, NH. He is the author of
Self-Compassion in Psychotherapy
(W.W. Norton). He offers training and consultation to therapists around the world, helping them to integrate mindfulness practices into their work.
Tim has presented at Yale University, the Institute of Meditation and Psychotherapy Colloquium, Greater Oregon Behavioral Health Conference, and the International Society for Ethics in Psychology and Psychiatry. His writings on mindfulness and self-compassion have appeared in the
Psychotherapy Networker
and the
Mindfulness Bell
magazines. Tim was interviewed about practices for self-compassion by the Huffington Post, and writes for major mental health websites such as
www.Madinamerica.com.
He developed and teaches "dialogue-based mindfulness therapy," a technique for teaching mindfulness and self-compassion in which the client is guided through a meditation while giving the clinician feedback about their experience in real-time. The clinician uses this feedback to adjust and custom tailor the meditation instructions in order to ensure the client learns the technique effectively.
In 2005, Tim was ordained by Thich Nhat Hanh into the Order of Interbeing after many years of practicing in that tradition. He leads meditation retreats around the U.S. and teaches regularly at Morning Sun Mindfulness Center in NH. In addition to the tradition of Thich Nhat Hanh, Tim teaches Nonviolent Communication and Positive Psychology.
Speaker Disclosures:
Speaker Disclosures: Financial: Tim Desmond maintains a private practice. He receives a speaking honorarium from PESI, Inc.
Nonfinancial: Tim Desmond has no relevant nonfinancial relationship to disclose.
CHRISTOPHER WILLARD, PSY.D.
Christopher Willard, Psy. D.,
is one of the world's leading experts on mindfulness with young people, having trained thousands of professionals and young people on the practice and benefits of mindfulness. He is a psychologist and consultant based in Boston, working individually as well as consulting to schools, hospitals and other organizations. Additionally, he is the author of multiple books on psychology, child development, contemplative practice and more. Dr. Willard is the president of the Mindfulness in Education Network and serves on the board of directors at the Institute for Meditation and Psychotherapy. In addition to serving on the faculty of Harvard Medical School, Dr. Willard leads courses and workshops around the world and online. You can find his website at
drchristopherwillard.com,
where you can watch his TEDx talks and learn more about his books and work. Dr. Willard is the author of
Child's Mind
(2010),
Growing Up Mindful
(2016) and three other books. He is the co-author of the bestselling
Growing Mindful
and
Growing Happy
card decks.
When not working, he enjoys time with his family, traveling, cooking, eating, hiking, writing and any combination of these he can manage.
Speaker Disclosures:
Financial: Christopher Willard maintains a private practice. He receives royalties as an author for New Harbinger Publishing, Guilford Press, and Parallax Press. Dr. Willard is the president of the Mindfulness in Education Network. He is on the board of directors at the Institute for Meditation and Psychotherapy and is faculty of Harvard Medical School. Dr. Willard receives a speaking honorarium from PESI, Inc.
Non-financial: Christopher Willard has no relevant non-financial relationship to disclose.
MITCH R ABBLETT, PH.D.
Mitch Abblett, Ph.D., is a licensed clinical psychologist, clinical administrator, supervisor and trainer. He has appeared on local and regional television programs in New England, and has written in professional periodicals regarding children's mental health needs. Dr. Abblett also serves as the Clinical Director of Judge Baker Children's Center's Manville School, a well-established therapeutic day school for special education children with significant learning, emotional and behavior challenges. In addition to his work with emotionally-behaviorally disordered children, Dr. Abblett has also worked with a variety of populations presenting difficult behavior patterns (aggression, trauma reactivity, combat veterans, sexual perpetration, and addiction). Dr. Abblett has conducted numerous trainings regarding clinical work with difficult populations, and is a dynamic, engaging speaker.


Speaker Disclosures:

Financial: Dr. Mitch Abblett is the Clinical Director of the Manville School/Judge Baker Children's Center. He is an adjunct faculty member at the Massachusetts School for Professional Psychology. He maintains a private practice. Dr. Abblett receives a speaking honorarium from PESI, Inc.

Non-financial: Dr. Mitch Abblett is a member of the American Psychological Association.
Continuing Education Credits Awarded for Completion of Entire Package
[+]
[-]
Combined Continuing Education Credit From All Components
Breakdown of Continuing Education Credits by Components
[+]
[-]
049970 - Self-Compassion for Teens:
[+]
[-]
084590 - Self-Compassion for Teens: 129 Activities & Practices to Cultivate Kindness
[+]
[-]
084780 - The Self-Compassion Deck: 50 Mindfulness-Based Practices
Audience
Counselors, Teachers/Educators, Marriage & Family Therapists, Occupational Therapists & Occupational Therapy Assistants, Psychologists, Social Workers, Speech-Language Pathologists, and other Mental Health Professionals
Reviews
[+]
[-]
084590 - Self-Compassion for Teens: 129 Activities & Practices to Cultivate Kindness
For a teen, self-compassion opens the door to loving and gratifying relationships, the full unfolding of intelligence, and deep wellbeing in all domains. In this groundbreaking book, Dr. Lee-Anne Gray offers the most clear, thorough and accessible guidance in teaching teens self-compassion that I have encountered or could imagine. My prayer is that anyone who is engaged with teens find their way to this book; the ripples will awaken consciousness everywhere.
-Tara Brach, PhD, Author Radical Acceptance and True Refuge

Self-compassion is one of the most important strengths for teenagers to develop, to support resilience, well-being, and social connection. And yet it can be quite difficult to talk about and teach. Lee-Anne Gray has created an extraordinary resource for those who want to cultivate self-compassion in themselves and others. This book provides practical exercises, discussion prompts, and a deep dive into what it truly means to care about ourselves. I have not seen a better resource for teaching self-compassion, not just for teenagers, but for anyone.
- Kelly McGonigal, PhD

This book is just the ticket for parents, teachers, and counselors who know the burdens of modern teens and want to help. Self-compassion is a core emotional skill that builds emotional resilience. In this book, Dr. Gray offers a wide array of exercises that awaken self-compassion in teens, tailored specifically for challenging situations such as school stress, identity and body image problems, substance abuse, anxiety, autism and chronic illness. Written in a clear and compassionate style, caregivers will discover a powerful new approach to tricky problems. Highly recommended!"
- Chris Germer, PhD

An exquisite collection of powerful practices that parents, teachers, and therapists can all share with the teens in their lives.
- Christopher Willard, PsyD, Author Growing Up Mindful

Among the keys to self-compassion, Lee-Ann Gray teaches, are mindful awareness, inner strength, and self-regulation. In this succinct manual, parents, teachers and clinicians are guided to impart these and other essential qualities to young people. It is guidance sorely needed in our culture.
-Gabor Maté, MD Author, Scattered: How Attention Deficit Disorder Originates And What You Can Do About It

When offered by professionals with real personal experience with self-compassion, and when offered from the heart, the practices in this book can support teens in learning the skills of self-compassion. Ultimately this will free teens from the grips of what I fondly call Unkind Mind, and will allow them to thrive and bring their natural gifts in the world.
-Amy Saltzman, MD, Author, A Still Quiet Place for Teens

Self-Compassion for Teens provides a treasure trove of nurturing, compassionate activities for teens, professionals, and parents to help transform lives. Dr. Gray's clear, tender-hearted, and caring approach shows a depth of understanding critically needed in reaching the souls of our youth and making a real difference. An invaluable asset to every library.
-Charlotte Reznick, PhD, Author, The Power of Your Child's Imagination: How to Transform Stress and Anxiety into Joy and Success

Self-Compassion for Teens is a wonderful collection of practices and activities inspiring teens to treat themselves kindly. For teens dealing with anxiety, depression, ADHD, school challenges, and much more-this book offers new insights that increase self-acceptance. What an important resource for clinicians, teachers, parents and teens to promote self-kindness, creativity, and empathy.
- Scott Barry Kaufman, PhDAuthor, Ungifted: Intelligence Redefined

Self-Compassion for Teens is a book that will help many teenagers improve their quality of life by reducing negative emotions, such as anxiety, frustration, worry, and stress, etc. It will help them develop self-compassion, as well as compassion for others. This book has each topic laid out with three categories: Learn, Practice, and Reflect, and is written in easily understood, simple language.
- Venerable Tenzin Yignyen, Faculty Hobart & William Smith Colleges
Satisfaction Guarantee
Your satisfaction is our goal and our guarantee. Concerns should be addressed to PESI Kids, P.O. Box 1000, Eau Claire, WI 54702-1000 or call (800) 844-8260.

ADA Needs
We would be happy to accommodate your ADA needs; please call our Customer Service Department for more information at (800) 844-8260,