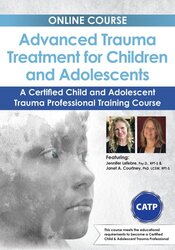 Product Details
Format:

Online Course

Authors:

JANET COURTNEY, PHD, LCSW, RPT-S
JENNIFER LEFEBRE, PSY.D., RPT-S
CLAIR MELLENTHIN, LCSW, RPT-S

Publisher:

PESI Inc.

Copyright:

6/16/2018

CE Available:

Yes, See CE credit tab for complete continuing education details

Product Code:

CRS001261
Objectives
[+]
[-]
048975 - The Ethics of Touch in Child Psychology & Play Therapy
State 10 different types of touch that can occur in a therapy session.
Demonstrate four ways to evaluate for a child's psychosocial experiences related to touch.
Describe how to apply 5 therapeutic interventions to handle in-the-moment ethical dilemmas in a play therapy session.
[+]
[-]
053325 - Trauma Treatment for Kids - Healing the Body Through Play
Articulate how to help children with complex trauma histories restore their capacity for playfulness and co-regulation.
Evaluate the fight-or-flight response in children, and learn playful ways to teach children about the brain-body relationship.
Communicate the neurophysiological theory behind developmental trauma and attachment.
Contrast diagnostic challenges within this population, and ascertain symptoms of post-traumatic stress disorder which can be decreased through embodied play therapy strategies.
Combine embodied play therapy interventions with evidence-based treatment models for improving emotional and behavioral regulation.
Pair the core components found within the leading evidence-based trauma treatments (TF-CBT, EMDR, CPP, ARC, TARGET) with play therapy techniques to improve relational engagement.
Evaluate which trauma informed treatment components "fit" with specific needs of children who have experienced developmental trauma.
Determine how core components of childcentered play therapy align with best practices for treating childhood trauma.
Help children heal from trauma through play therapy and evidence-based cognitive strategies.
Implement play therapy techniques that are consistent with the core components of trauma-informed treatment.
Develop a treatment plan for introducing play therapy to clients and families in an engaging, fun manner.
Integrate culturally attuned play therapy strategies into trauma work with children and families.
Outline
[+]
[-]
048975 - The Ethics of Touch in Child Psychology & Play Therapy
The Ethics of Touch in Context
Clinical concerns of touch in child psychotherapy and play therapy
No touch policies-more harm than good?
Types of touch: greeting, accidental, task-oriented, attentional, and more
Assessment for Psychosocial Experiences of Touch
4 Child Drawing Assessments
Rating scale questionnaires

Parent's perceptions of child's touch experiences
Teacher Touch Observation Rating Scale for child
Interventions and Case Examples: Ethical dilemmas of Touch- Responses, Interventions and Boundary Setting
Risk/benefit decision making
Child hits/slaps therapist
Inappropriate touching of therapist
Child asks to be touched inappropriately
Child asks for appropriate touch
Specific populations

Infants-behavioral cue indications
Teenagers
Attachment Disorders
Autism/Sensory Processing Disorders
Sexually traumatized children

10+ Recommendations for working with abused children
Engaging parents in problem touch occurrences
20+ Top Ethical Touch Best Practice Guidelines
Practitioner Touch Awareness Questionnaire
Informed Consent-for therapy approaches that use touch
Informed Consent-Mandated Reporter of all forms of abuse
Unethical Forms of Touch
And many more…
[+]
[-]
053325 - Trauma Treatment for Kids - Healing the Body Through Play
Neuroscience of Childhood Trauma Trauma Theory

Fight-or-Flight (parasympathetic/sympathetic nervous system)
Attachment Theory

Assessment

Complex Trauma
Post-traumatic Stress Disorder
Reactive Attachment Disorder
Developmental Trauma Disorder
A new conceptualization and integrated clinical framework

Essential Components for Trauma-Informed Treatments

Establishing safety and a sense of competence/worth
Appropriate attachments & relational engagement
Self-regulation (body & emotions)
Self-reflection & Introspection
Integration of traumatic experiences (acknowledgment & processing of the trauma)
Future safety ~ transitioning beyond the Trauma

Body Based Treatment - Emotional and Behavioral Regulation

Verbal vs nonverbal responses - how to recognize trauma without verbal report
Bottom-up versus top-down processing - trauma starts in the body
Developmental needs of traumatized children
Embodied play & sensory integration - emotional and behavioral regulation

Incorporating Play Therapy into Proven Evidence-based Treatments

Components that "fit" the child's specific needs
TF-CBT- Trauma focused Cognitive Behavioral Therapy
EMDR - Eye Movement Desensitization and Reprocessing
CPP - Child Parent Psychotherapy
ARC - Attachment, Regulation, and Competency
TARGET - Trauma Adaptive Recovery Group Education Therapy

Play Therapy Principles

Therapist establishes a friendly relationship
Accepts the child as he is
Creates a permissive relationship; child has freedom of expression
Validates (acknowledge and reflect) child's feelings
Responsibility for decisions and change is left mostly to the child
Child directs the therapeutic process; therapist follows
Therapeutic interaction is not rushed
Limits are set only when necessary for child's outcomes

Advancing Trauma Treatment with Play Therapy

Non-verbal techniques
Sensory-based techniques
Culturally and developmentally appropriate techniques

Play Therapy Strategies and Techniques

Integration of traumatic experiences to acknowledge and process the trauma: Sandtrays, drawings, & play
Target shame, self-doubt, and selfcompassion: Sandtray Safeplace & All About Me
Build an understanding of the brainbody relationship: Flip your lid and Charades
Target indiscriminate attachments and interpersonal reactivity: Invisible String & Family Sandtray
Improve emotional and bodily regulation: Stressballs, Be Spaghetti, Feelings Map, Trashballs, Yoga, and Weather Massage
Author
JANET COURTNEY, PHD, LCSW, RPT-S
Janet A. Courtney, PhD, LCSW, RPT-S,
is founder of FirstPlay Therapy® and an adjunct professor at Barry University School of Social Work, Miami Shores, FL. She is a Registered Play Therapy-Supervisor, TEDx speaker, chair of the Ethics and Practice committee through the Association for Play Therapy, and past president of the Florida Association for Play Therapy. Dr. Courtney is author and co-editor of the groundbreaking 2017 book,
Touch in Child Counseling and Play Therapy: An Ethical and Clinical Guide.
Her research into touch is published in the
International Journal of Play Therapy,
and the
American Journal of Art Therapy.
She is also published in the
Journal of Therapeutic Horticulture,
and is a contributing author for the chapter, "Touching Autism through Developmental Play Therapy" in the book,
Play-based Interventions for Children and Adolescents with Autism Spectrum Disorders.
She offers a certification in FirstPlay Therapy® (including FirstPlay® Infant Massage Storytelling). She has been invited to speak nationally and internationally including the Cayman Islands, England, Ireland, Morocco, Russia and the Ukraine. She specializes in infant play therapy/infant mental health, attachment, and trauma related issues. Dr. Courtney's new form of Kinesthetic Storytelling® can be found in her children's book,
The Magic Rainbow.
Visit her website at
www.FirstPlayTherapy.com
Speaker Disclosures:
Financial: Janet Courtney is founder of FirstPlay™ Therapy. She is in private practice and an adjunct professor at Barry University. Dr. Courtney receives a speaking honorarium from PESI, Inc.
Nonfinancial: Janet Courtney is a member of the National Association of Social Workers.
JENNIFER LEFEBRE, PSY.D., RPT-S
Jennifer Lefebre, Psy.D., RPT-S, is a clinical supervisor and EMDR consult facilitator at the Trauma Center. She completed her doctoral degree in Clinical Psychology from the University of Hartford in 2006.

She is a Registered Play Therapist – Supervisor, and has received specialized training in Attachment, Regulation and Competency (ARC), Sensory Motor Arousal Regulation Therapy (SMART), Trauma Sensitive Yoga (TC-TSY), Trauma-focused Cognitive Behavioral Therapy (TF-CBT), Theraplay, and Parent Child Interaction Therapy (PCIT-A). She is working toward becoming an EMDRIA-approved consultant, and is an EMDR (Level II) clinician. Additionally, she is an Infant and Early Childhood Mental Health Consultant.

Dr. Lefebre's clinical and research interests center on the assessment and treatment of children, adolescents, adults and families whose lives have been impacted by complex trauma. She has experience working with young children (0-5), adult survivors of severe childhood abuse and neglect, and combat veterans with PTSD. She has worked in residential treatment, psychiatric inpatient and community mental health settings, and schools, and has taught at both the undergraduate and graduate level. She has provided trainings around the country integrating play therapy and evidence-based trauma practices.

Speaker Disclosures:

Financial: Jennifer Lefebre is in private practice. She receives a speaking honorarium from PESI, Inc.

Non-financial: Jennifer Lefebre is a member of the Association of Play Therapy.
CLAIR MELLENTHIN, LCSW, RPT-S
Clair Mellenthin, LCSW, RPT-S, is a Registered Play Therapist Supervisor and is the past president of the Utah Association for Play Therapy. Throughout her career, she has focused on providing therapy to children, teens, and their families. Clair is the director of Child and Adolescent Services at Wasatch Family Therapy. She is a sought after supervisor, training graduate students and interns in play therapy, and an adjunct faculty member at the University of Southern California MSW program. Clair is the author of My Many Colors of Me Workbook. In addition to being an experienced play therapist and professor, she frequently presents professional play therapy and family therapy trainings and appears on local and national TV and radio as an expert on children and family issues.


Speaker Disclosures:

Financial: Clair Mellenthin is the clinical director at Wasatch Family Therapy. She is the author of My Many Colors of Me Workbook; she maintains intellectual property rights and receives royalties. Ms. Mellenthin receives a speaking honorarium from PESI, Inc.

Nonfinancial: Clair Mellenthin is the president of the Utah Association for Play Therapy.
Continuing Education Credits Awarded for Completion of Entire Package
[+]
[-]
Combined Continuing Education Credit From All Components
Breakdown of Continuing Education Credits by Components
[+]
[-]
048975 - The Ethics of Touch in Child Psychology & Play Therapy
[+]
[-]
053325 - Trauma Treatment for Kids - Healing the Body Through Play
[+]
[-]
085380 - Play Therapy
Audience
Addiction Counselors, Teachers/Educators, Marriage & Family Therapists, Nurses, Psychologists, Social Workers, Speech-Language Pathologists, and other Mental Health Professionals, Marriage and Family Therapists, Play Therapists, Occupational Therapist
Satisfaction Guarantee
Your satisfaction is our goal and our guarantee. Concerns should be addressed to PESI Kids, P.O. Box 1000, Eau Claire, WI 54702-1000 or call (800) 844-8260.

ADA Needs
We would be happy to accommodate your ADA needs; please call our Customer Service Department for more information at (800) 844-8260.