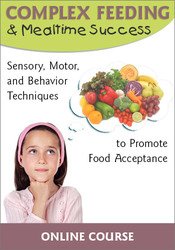 Product Details
Format:

Online Course

Authors:

SUSAN ROBERTS, MDIV, OTR/L
JESSICA HUNT, OTR/L
LESLIE KORN, PH.D., MPH, LMHC

Publisher:

PESI Rehab

Copyright:

6/18/2018

CE Available:

Yes, See CE credit tab for complete continuing education details

Product Code:

CRS001214
Objectives
[+]
[-]
061965 - Mealtime Success: Transform Food Refusal Into Food Acceptance
Communicate commonalities in the development of play, emotional intelligence and mealtime skills.
Determine common myths about picky eaters and the research-based evidence that contradicts these commonly held assumptions.
Analyze and differentiate a child's current food choices for nutritional value and sensory preferences
Formulate a plan for successfully introducing new and nourishing foods.
Integrate therapeutic interventions that motivate and reward expanded food choices and the development of competent eating skills.
[+]
[-]
063300 - Complex Feeding Issues:
Evaluate how sensory processing, behavior and oral motor skills impact or interfere with each child's ability to eat.
Role Play how to implement sensory techniques during and prior to meal times to address difficulties such as not wanting to touch certain foods or sitting at the table.
Implement oral motor exercises and strategies to promote feeding patterns such as rotary chewing pattern, lip closure and tongue lateralization.
Explore the misconceptions about feeding that impact special needs children.
Evaluate the behaviors that interfere with eating and devise strategies to address the behavior.
Support and guide the parents, caregivers and other family members through often emotional or stressful meal times.
Outline
[+]
[-]
061965 - Mealtime Success: Transform Food Refusal Into Food Acceptance
OVERVIEW
Commonalities in the epidemics of autism, obesity, GI inflammation, and diabetes
Need for multifaceted nutritionally-based approach to these conditions
Importance of child-centered approach for long-term successful outcomes
HUNGER AND SATIETY
Biomedical reasons for refusal to eat
Sensory processing factors that affect food choices
Research supporting the benefits of enjoying what we eat
Use positive behavioral reinforcement to get improved food exploration
Case studies
TECHNIQUES TO IMPROVE NUTRITIONAL OUTCOMES
Common food "addictions " that affect nutrition and health
Nutrition impact on neurodevelopment and autism
Food journals to assess nutritional needs
Food journals to assess sensory preferences
Create food chains to expand a child's diet
Case studies
STRATEGIES FOR: A CAREGIVER'S RESPONSIBILITIES FOR NUTRITIONAL AND BEHAVIORAL OUTCOMES
Why children (and the adults who care for them) make toxic food choices
Research on the importance of family meals
Re-establish healthy roles and responsibilities
Assist caregivers with meal planning
Case studies
A CHILD-CENTERED PROGRAM FOR SUCCESSFUL OUTCOMES
Problems of trust for "super-tasters" and "super-smellers"
Use developmental assessments to determine readiness for mealtime skills
Create play-based programs to develop comfort with unfamiliar foods
Case studies
[+]
[-]
063300 - Complex Feeding Issues:
Complex Feeding Issues

Common misconceptions explained
Overlap of sensory processing skills, oral motor skills and behaviors
Normal development key points

Evaluation of Feeding Skills

Observations: sensory or behavior responses
Oral motor evaluation for jaw, lips, and tongue strength and range of motion for feeding
Foods that give you information quick
Quick sensory tasks for a sensory profile
Case study: Putting it all together.
Video of evaluations, and case studies

Techniques and Treatment Strategies

Autism

Address food jags
Make food fun: sticks, cubes and more to increase oral motor skills
Address mealtime behaviors such as not sitting and throwing food
Easy ways to regulate arousal at the table using breathing and proprioceptive input
Systemic desensitization to address tactile over responsivity
Video case study

Cerebral Palsy

Oral motor exercises to promote rotary chewing, tongue lateralization and lip closure
Easy techniques to Increase under responsivity
Tone management for increased range of motion in lips and cheeks
Hand to mouth connection
Handling and seating techniques
Exercises to decrease tongue thrust
Sensory input to increase oral motor muscle responsivity
Stretching the oral facial muscle to regulate
tone for chewing and straw drinking
Video case examples

Other Development Delays (Down Syndrome, Failure to Thrive, and Global Delays)

Easy sensory techniques for children with decreased vision and cortical vision impairment
Address cognitive delays using sensory processing and motor skills
Oral motor exercises and "mealtime concepts" for children who do not eat by mouth
Failure to thrive: make fun food and increase interest
Video case examples

Promote Carry- Over at Home

Education of family and caregiver on complexity of feeding
Create peaceful mealtime at home through routine
Easy oral motor exercises during play and mealtimes
Easy sensory activities to promote attention and regulation during mealtime
Author
SUSAN ROBERTS, MDIV, OTR/L
Susan L. Roberts, MDiv, OTR/L, has worked with autistic children, their families, and their communities for more than 20 years, developing "positive" and highly-effective solutions for the home and school. She received her Bachelor of Science in Occupational Therapy from Boston University, and research interests in the sensory aspects of healing rituals led her to a Master of Divinity from Harvard University. Today, her research focuses on the primary occupation of childhood – play, as well as the use of mind/body approaches to achieve optimal health and wellness.

Ms. Roberts has taught a variety of courses in the occupational therapy departments of Eastern Kentucky University and New York Institute of Technology. She opened and operated a play-based pediatric clinic in Tucson, Arizona, and she was named Arizona Occupational Therapy Association's Occupational Therapist of the Year in 1993. Ms. Roberts went on to complete the Professional Training Program at the Institute of Integrative Nutrition in New York City. She currently coaches parents and therapists who want to –enjoy mealtimes that nourish both body and soul.

Susan Roberts co-authored My Kid Eats Everything: A Journey from Picky to Adventurous Eating, Kinesiology: Movement in the Context of Activity, and Biomechanics: Problem Solving for Occupational Therapy.

Speaker Disclosures:

Financial: Susan Roberts is the author for Mosby Publishing and Element Consulting Incorporated Publishing. She receives a referral honorarium from the Institute of Integrative Nutrition. She is an affiliate for GNOWFGLINS.com. She receives a speaking honorarium from PESI, Inc.

Non-Financial: Susan Roberts has no relevant non-financial relationship to disclose.
JESSICA HUNT, OTR/L
Jessica Hunt, OTRL, is well-known for her experience in treating pediatric sensory processing disorders in both the home and clinical settings. She serves special needs children by bringing her feeding expertise directly into the home setting through her company J.L. Hunt Therapeutics. Previously Mrs. Hunt worked for 10 years at Kaufman Children's Center as the director of occupational therapy and sensory integrations programs and then as the director of feeding and oral motor programs. She is certified in sensory integration, receiving her Sensory Integration and Praxis Test (SIPT) certification in 2008 and she had studied with Lucy Jane Miller, PhD, OTR, who is nationally recognized for sensory research, education, and treatment. Ms. Hunt received her bachelor's degree in occupational therapy from Wayne State University in 2003. She gained expertise in "picky eating," oral-motor therapy through trainings that include, the Beckman Protocol, and Talk Tools, behaviors issues with feeding, feeding strategies for children who have autism, and treating medically challenging child. She is also trained in craniofacial therapy, advanced training in Therapeutic Listening, Integrated Listening System, and Handwriting without Tears.

*Mrs. Hunt is also the notable recipient of the 2011 Michigan Occupational Therapy Association Award of Excellence.

Speaker Disclosures:

Financial: Jessica Hunt maintains a private practice. She receives a speaking honorarium from PESI, Inc.

Non-financial: Jessica Hunt has no relevant non-financial relationship to disclose.
LESLIE KORN, PH.D., MPH, LMHC
Leslie Korn, Ph.D., MPH, LMHC, is a renowned expert in two interrelated disciplines: Integrative Medicine and nutrition for mental health, and Cross Cultural Psychology and Counseling. Her humor, breadth of knowledge and style of presentation make her seminars exciting and practice-changing. She has over 40 years of experience as a clinician, educator and research scientist and has worked in urban and rural settings with diverse communities including Latino/a and Native communities. She lived and worked in the jungle of Mexico for over 25 years where she directed a public health clinic working alongside traditional healers and also had a successful private practice for 15 years in Boston where she intoduced somatic psychotherapy and yoga at Harvard Medical School in 1985.

Dr. Korn has a dual doctorate in Behavioral Medicine and Traditional (indigenous) Medicine, and a Masters of Public Health from Harvard School of Public Health. Dr. Korn also earned a Masters in cross-cultural health psychology from Lesley University where she taught for 20 years. She was a clinical fellow and instructor in psychology and religion at Harvard Medical School, the former clinical director of the New England school of Acupuncture, and Faculty at the National college of Naturopathic Medicine. She is an approved clinical supervisor, a licensed mental health counselor, and was a Fulbright scholar in Mexico and an NIH-funded scientist conducting research on massage and Polarity therapy. Dr. Korn is the author of Nutrition Essentials for Mental Health: The Complete Guide to the Food Mood Connection, Eat Right Feel Right: 50 recipes and Tips to Improve Mood, Sleep, Attention & Focus, Rhythms of Recovery: Trauma, Nature and the Body, The Multicultural Workbook, Preventing and Treating Diabetes Naturally, The Native Way, and the forthcoming The Good Mood Kitchen. Dr. Korn is core faculty and fieldwork supervisor in mental health counseling at Capella University and maintains an international clinical consulting and coaching practice for clinicians and their clients.


Speaker Disclosures:

Financial: Leslie Korn is in clinical practice. She receives a speaking honorarium from PESI, Inc.

Nonfinancial: Leslie Korn has no relevant nonfinancial relationship to disclose.
Continuing Education Credits Awarded for Completion of Entire Package
[+]
[-]
Combined Continuing Education Credit From All Components
Breakdown of Continuing Education Credits by Components
[+]
[-]
061965 - Mealtime Success: Transform Food Refusal Into Food Acceptance
[+]
[-]
063300 - Complex Feeding Issues:
[+]
[-]
084920 - Eat Right, Feel Right
Audience
Psychologists, Counselors, Social Workers, Nurses, Teachers/Educators, Speech-Language Pathologists, Occupational Therapists & Occupational Therapy Assistants, Physical Therapists/Physical Therapy Assistants, Registered Dietitians & Dietetic Technicians, and other Mental Health Professionals
Reviews
[+]
[-]
084920 - Eat Right, Feel Right
"Over two thousand years ago, the Greek physician Hippocrates encouraged us to 'let food be thy medicine, and medicine be thy food.' Emerging research has supported this notion, and there is indeed a huge link between the foods we eat and our physical and mental health. To help us in this endeavor, Dr. Leslie Korn has given us a true jewel of a recipe card deck. Whether you're struggling with depression, anxiety, insomnia, or day-to-day stress, Eat Right, Feel Right provides simple and manageable tips for a healthier lifestyle. Best of all, the recipes are not only good for you -- they're delicious too!"
Jonah Paquette, PsyD, clinical psychologist, speaker, Happiness expert, author of Real Happiness: Proven Paths for Contentment, Peace & Well-Being
Satisfaction Guarantee
Your satisfaction is our goal and our guarantee. Concerns should be addressed to PESI Kids, P.O. Box 1000, Eau Claire, WI 54702-1000 or call (800) 844-8260.

ADA Needs
We would be happy to accommodate your ADA needs; please call our Customer Service Department for more information at (800) 844-8260.